Earlier this month, I had the privilege of speaking at the New York Bankers Association Leadership 360 Summit held in Albany, New York. My talk was titled, "The Art of the Difficult Conversation," always a timely topic. The audience was plugged in, curious, engaged, and inquisitive, and I felt that I delivered something of value that made a difference –an awesome feeling.
As it happens, Albany is also the home of my alma mater. Driving into the city the morning of the talk, I reflected on my time there as a student and the meandering path my life has taken since then. Upon returning to my hotel room afterward, it occurred to me that I had only visited the campus once or twice since graduation, definitely not within the last decade.
And there was a reason for that.
Beginning in my teens and feverishly continuing through my twenties, I mastered the practice of self-loathing. The practice paid off–I was exquisitely good at it. I would judge myself brutally, my subconscious mind constantly chanting barbs like:
You're not skinny enough.
You're not smart enough.
You're not pretty enough.
You're not ambitious enough.
You're not brave enough.
You're just not enough.
And I believed every word.
Besides having no self confidence and even less self esteem, I also tended to show up in relationships like a chameleon–bending, adapting, and deferring to the other so they would like me.
Because certainly, I wasn't likable as I was.
Mood swings were wide and constant, and hiding them became exhausting. I wondered how everyone else did it (not yet aware they were a symptom of my undiagnosed bipolar disorder), which only exacerbated my self-loathing (why was I so weak?). As graduation neared, friends and classmates seemed excited to start their adult lives, while I was petrified and paralyzed in uncertainty, depression, and doubt.
No wonder I didn't rush back for reunions.
Being back in the city for those two days triggered a flood of painful emotions, and I almost couldn't wait to leave. Which was precisely the reason I decided to visit the campus before returning home—to grant myself permission to feel the pain in the hopes of letting it go.
As I approached the university's main entrance, my heartbeat quickened and sweat formed between my shoulder blades. The grounds were beautifully landscaped and boasted new buildings, dorms, and signage. But as I drove along the perimeter road, my focus was on the handful of young women jogging on its sidewalks. I was transported to the many crisp mornings of compulsively running the same route, striving to be smaller, to take up less space, to be better so that I could finally be happy.
After parking in front of my old dorm, I felt a wave of compassion for my younger self, wishing I could have reassured and convinced her that although life would serve up struggles, none would define her. She would try things, fail plenty, and grow into herself…in time.
I recalled the talk I had given the day before about difficult conversations and couldn't help but smirk at the irony–how difficult would it have been to have such a conversation with that young, raw, struggling version of myself? Would she have listened?
I imagined telling her how the roadblocks and struggles would guide her to a better understanding of her mental health, and how early life experiences had impacted and imprinted her. That, after decades of feeling constantly afraid and less-than, she would learn to quiet the brutal inner critic by practicing strategies she would eventually teach to others.
Work that, today, I wouldn't trade for any other.
I remembered a line from Mary Oliver's poem, The Summer Day:
"Tell me, what is it you plan to do with your one wild and precious life?"
I could never have known, back then, where my wild and precious path would lead. That my struggles would form and fuel the passion I have for what I do. That I would not only feel better in my skin, but would dedicate myself to helping others do the same.
The trick, I have learned, is in being okay with the unknowing,with allowing it all to unfold while trusting ourselves to navigate the waves, the bumps, and challenges. In knowing that, no matter what happens, we are enough.
We can't go back. We can only visit and, if we're lucky, realize something about ourselves that we might have forgotten.
Try this:
Find a photo of yourself as a child and spend some time tapping into that version of you. Recall your favorite color, food, music, television show, activities you loved doing that sparked your curiosity and passion.
This is one of my favorite photos: I was about 8 years old, exploring my grandfather's apricot orchard in Millcreek Canyon, Utah. Obviously ready to conquer the world (and unaware that my fly was open).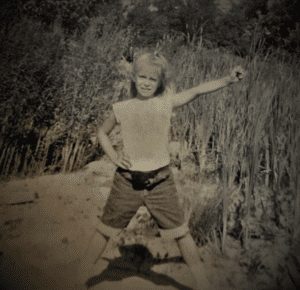 If I could, I would tell her, "Don't worry so much, Nancy. It will all unfold just the way it's supposed to."
If you could have a conversation with your younger self, what would you say?