Divorce is a heartbreaking experience, no matter whether it is "amicable" or not. My divorce never got mean because my former husband and I care deeply for each other and always valued kindness and respect above all else. But that doesn't make it less difficult. One of the biggest positives that came out of my divorce was that it allowed me to step into my own power as an individual, to face my fears and better understand myself and my spirit. I feel stronger today than I ever have before.
Nancy is an author, speaker, and facilitator committed to helping people embrace and better understand their fears as they build a path toward courageous living. Drawing on personal life experience and years of research in the areas of cognitive behavior, behavioral finance and neuroscience, Nancy writes regularly on how fear manifests in relationships, parenting, work, creativity, and money habits. As compelling speaker, Nancy offers provocative and engaging talks and workshops that elevate the conversation around how fear affects our lives and how we can change our relationship with it.
lyssa Panitz: Thank you for joining us. Tell me in a few sentences a little bit about yourself?
Nancy Burger: I grew up in the Hudson Valley of New York in a middle-class suburban neighborhood with my mom, dad, and older sister. My dad worked for IBM until he retired, and my mom stayed at home with my sister and me. As a child, I was always swept up in my imagination, spending hours playing dress-up, reenacting my favorite television shows, or singing along to Joni Mitchell albums. From an early age I was passionate about writing and music, both interests that have stayed with me.
Ilyssa Panitz: You are an accomplished writer and cover topics such as parenting and relationships. What drew you to this line of work?
Nancy Burger: I was diagnosed with bipolar disorder in my early forties (almost twenty years ago), and during a period of mania, I wrecked my car while under the influence of alcohol. I was married at the time and had two young children. The officer that arrived at the scene (and administered the field sobriety test that I failed) told me, "I don't think this is who you are," and gave me a ticket instead of arresting me for DUI. I realized that things were off the rails, that I was not facing into the things that were frightening me. After years of personal work and commitment to change, I decided to share what I had learned to help others find the best path for themselves.
Ilyssa Panitz: WOW. How long were you married?
Nancy Burger: Twenty-seven years.
Ilyssa Panitz: Why after almost thirty-years did you decide to file for divorce?
Nancy Burger: I felt that my husband and I had increasingly drifted apart over the years. There wasn't a single, defining moment that ended out marriage, but rather a gradual disintegration of our connection.
Ilyssa Panitz: What was the process like and what were some of the big hurdles you had to face?
Nancy Burger: The process became protracted because we first tried to use a mediator. We had the good intentions to make the divorce as smooth as possible and to preserve our friendship. In the end, however, we each ended up hiring our own attorneys because once the money discussions began, things got a little more difficult and contentious.
Ilyssa Panitz: How long did it take from start to finish?
Nancy Burger: Two years.
Ilyssa Panitz: That's a long time. Where did you find the strength to keep going?
Nancy Burger: I felt very alone during the process because I certainly didn't want to talk to my grown children about it and I got some mixed signals from friends and family. I had to keep tapping into my own strength and trusting my instincts. It was the most difficult thing I have ever had to do, because my former husband is a good man and I care deeply for him. But the marriage had devolved and was no longer viable for me, and I had to face into that.
Ilyssa Panitz: What was the toughest part of your divorce?
Nancy Burger: The guilt that I felt for leaving the marriage, even though I knew it was the right decision.
Ilyssa Panitz: What did you fear most about going through you divorce?
Nancy Burger: Going through a divorce forces you to take a hard look at how you feel about yourself at your core and forces you to face up to whatever vulnerabilities you're navigating. For me, this came up in a big way when I had to find health insurance. I had been married for twenty-seven years, so had always had health insurance coverage through my former husband's employers. When I had to find insurance for myself and was faced with the high cost of it, I suddenly felt extremely alone and frightened. I remember sobbing the minute I got into my car after the meeting, wondering if I would be able to pay for it or get the care I needed if I became ill. It was a sobering and extremely triggering moment.
Ilyssa Panitz: Do you have children together and if so, did you have to deal with custody?
Nancy Burger: Yes, we have two children but they were adults at the time of the divorce so there were no custody issues.
Ilyssa Panitz: Do you have a favorite "Life Lesson Quote" that you feel helped you during this time?
Nancy Burger: Oddly enough, my favorite life lesson quote is the tag line I developed for my platform: "Find your fear. Find your way." Because once I dug in and unpacked the fears I was experiencing, my life changed in a huge way and for the better. Finding, embracing, and understanding our fears is the way to move forward and make things better.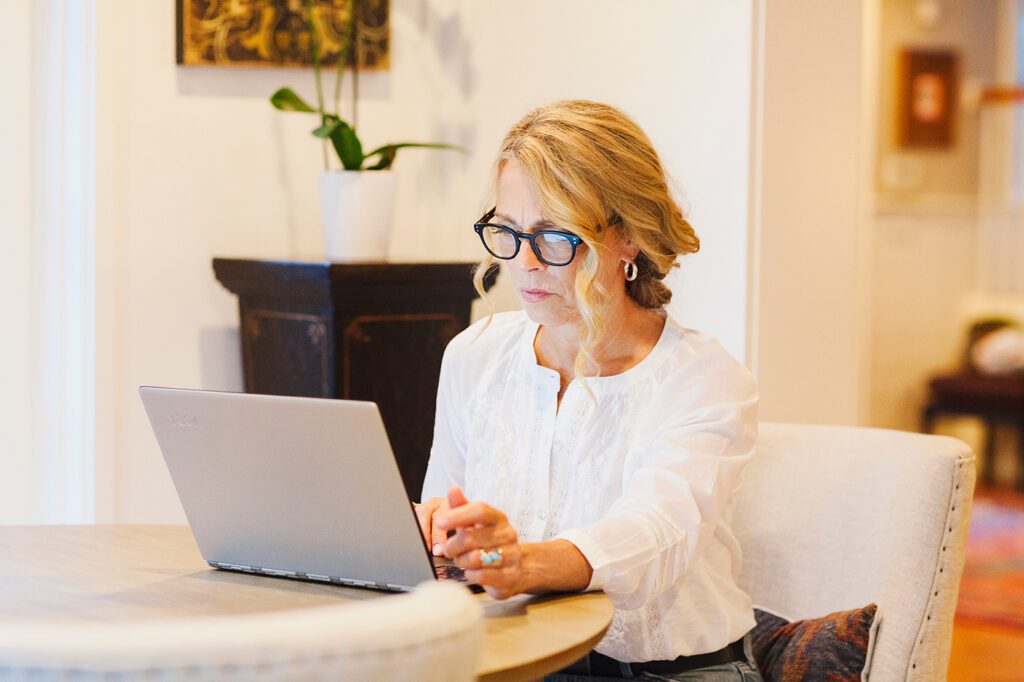 Ilyssa Panitz: In your opinion, what are the most common mistakes people make going through a divorce and what can be done to avoid that?
Nancy Burger: One of the most common and egregious mistakes I see people make while going through a divorce is to weaponize the process with their children. There is no good that comes from sharing details of your divorce with children, no matter what the age. Lashing out at your spouse to your kids is just off limits, period. Especially for young children, tweens, and teens, it can have significant and destructive consequences on their ability to conduct their own healthy and trusting relationships. But I see people do it all the time, and it makes me cringe. If you are angry at your spouse and want to vent, do it with trusted friends or family or, even better, a therapist. Leave the kids out of it.
Ilyssa Panitz: People tend to label "divorce" as being "negative" and yes, while there are downsides, there can also be a lot of positive that comes out of it as well. What would you say that they are?
Nancy Burger: Divorce is a heartbreaking experience, no matter whether it is "amicable" or not. My divorce never got mean because my former husband and I care deeply for each other and always valued kindness and respect above all else. But that doesn't make it less difficult. One of the biggest positives that came out of my divorce was that it allowed me to step into my own power as an individual, to face my fears and better understand myself and my spirit. I feel stronger today than I ever have before.
Ilyssa Panitz: What is the one thing people going through a divorce should be open to changing?
Nancy Burger: If you are attaching to what other people are saying or thinking about you or your choice to leave a marriage, you would be best served to let that go. It is completely out of your control. Better to focus on the things you can control.
Ilyssa Panitz: Divorce is also a great time to reinvent yourself. Did you seize the opportunity and switch it up?
Nancy Burger: Yes, I dug into my own creative energy and spent time reflecting on myself, my path, and how I wanted to spend the rest of my time on this planet. I was struck by how many women reached out to me after my divorce to discuss their own worries and fears and realized that I wanted to help them in some way. In 2019, I launched a consultancy to do that. I now write, speak and facilitate workshops to help women change their relationship with fear.
Ilyssa Panitz: Why was divorce the right decision for you and when you look back, why wouldn't you change one thing about your situation?
Nancy Burger: It was absolutely the right decision for me. While it was a miserable experience to go through, I am convinced that it represents part of my life's path. I am grateful beyond measure for the strong friendship my former husband and I have been able to cultivate, and for the fact that we continue to co-parent with respect and kindness.
Ilyssa Panitz: I had one guy tell his ex-wife who was close to 50 she was washed up and would live the rest of her life alone. Why is this statement not true and for a woman, age has nothing to do with finding romance?
Nancy Burger: What I have told other divorced women who feel this way is to first work on feeling good about themselves. I think it rarely works well to launch into the world of dating when you are feeling raw and insecure about yourself. Better to spend some time noticing and reflecting on the things that scare you, where your soft underbelly is, and use that as a springboard to bolster yourself. Then go out and do the things you love. If you meet new people while sharing a common interest, you stand a much better chance of building new, strong social connections.
Ilyssa Panitz: The focus of our discussion is, "What are 5 things you would advise someone in order to survive and thrive after the divorce." Your response would be?
Nancy Burger: Stand tall without feeling like you owe anyone an explanation for your decision. When I moved out of my house, the rumor mill churned, and some folks were only too happy to share their opinions regarding my decision. It was important at that time for me to set firm boundaries.
Two: Divorce is a deeply personal and private decision, and you don't have to explain it to anyone. It is something that you experience, but it doesn't define you — -a mindset that will serve you well as you move forward to the next, new stage of life.
Three: Be gentle with yourself. A divorce is a marathon, not a sprint, and when it is over you might be exhausted for a while. Be sure to self-care and be patient with yourself, taking time to relax and enjoy the things you love — which is also the best way to meet new people with common interests and passions and create a new chapter for yourself. When I first moved into my apartment, I wasn't interested in socializing or even talking to anyone. But that left me feeling isolated and lonely. Once I got out of my comfort zone and started meeting new people, I felt energized and vital again.
Four: Understand that old friendships could be challenged. People that you had been friends with when you were married might become uncomfortable in the post-divorce landscape and unsure about who they should align with. In my case, I made it clear to our friends that I welcomed continuing the relationship but encouraged them to do the same with my former spouse. Unfortunately, this didn't prevent some from choosing sides. One couple that we had been friends with for decades (even vacationed with) chose to stick with me but ghosted my former husband, which upset our family to point that I chose to let the friendship go. So, as you move into post-divorce life, focus on forging new friendships as well as maintaining old ones.
Five: Don't rush into dating. Adjusting to being single can take some time but jumping onto online dating websites isn't necessarily the answer. It is important to learn how to be alone, to make friends with yourself. Divorce creates wounds that need attention, so spend time healing from the difficult life experience you have faced before pivoting into a new relationship. In the first year after my divorce, I spent time on myself — -looking for work, taking up yoga, meeting new friends, learning a new language. These activities nurtured me and made me feel whole again. When I did start dating, I felt stronger and more confident than if I had done it sooner.